Digital twins are "virtual models designed to accurately reflect any physical object." (1) They're used for automobile manufacturing, aircraft, railcars, utilities, and commercial and industrial construction, which this article will focus on.
Digital twins are developing into the solution the industry has sought to deliver for ages – a single, digital source of truth for a building or plant. Some platforms have long been able to integrate various building systems together and then pitched as a "single pane of glass" to view building operational data, but they lacked a complete picture. 
Digital twin: A comprehensive solution
For buildings and plants, a digital twin includes a complete digital representation of the asset. 
Because a digital twin contains all 3 dimensional spatial data from the BIM (building information model), it can be used with interactive visualizations and augmented, mixed and virtual reality devices, in addition to a more traditional database-driven application with search and filtering capability.
All spatial, static, and live system data is included. 

 Centrally integrated system data from environmental controls, security, fire alarm, analytics, and any other platform with modern API's (application programming interface). 
Critically, spatial data in the form of a BIM.
Asset properties and attributes from equipment, systems, furnishings, casework…. everything. 
Warranty and repair data. 
For those operating the asset(s), the digital twin replaces: 
 Plans and specifications from construction and remodel/retrofit projects. This is why a proper digital delivery process is important during the original design and construction stage of the asset lifecycle.
Document management / cloud file storage systems that traditionally house other historical data like warranty and repair information, commissioning and other test records, systems manuals, etc. 

BIM / CAD viewing software. 

Multiple interfaces to building automation and control systems. 
Maintenance management systems. 
Work order management systems. 
Predictive maintenance and analytics systems.
How is a digital twin delivered? 
A design and construction project that prioritizes coordination across design and contracting teams can produce a BIM with fully populated asset attributes and properties, making the transition of the BIM to the digital twin straightforward. 
This requires process integration across all phases and stakeholders, with everyone committing to the process in initial conceptualization phases. An integrated project delivery model can best facilitate this dynamic and silo-less process.  The prevalence of integrated project delivery models like design build are increasing, and expected to do so for the foreseeable future because of their superior outcomes. 


For example, traditionally there are gaps in the capital project design and construction process that need to be bridged. Some data is only available or most efficiently handled during early design phases, such as 
defining assets
equipment, systems 
properties and attributes, at least those that are available at design phases
warranty periods
Some is naturally produced during later construction phases 
startup and inspection/test records, which is often critical for warranty and future maintenance needs

commissioning records and data

confirmation of asset data only available on physical components like serial numbers and capacity / rating data 

issues and punch list items uncovered during construction, which could be valuable to assess future problems
Bridging these gaps between early design, construction, and final turnover requires workflows and systems that can ingest and export data, preparing it for a final handoff to the digital twin. 
At the earliest stages of design, project teams must establish key workflows
Consensus around data conventions like naming, 
How Revit attributes are being used (so exported data is normalized), 
Established workflows for how a central dataset will be kept up to date and accurate from early design through final construction phases
A central source of truth is needed for the dataset
The project team must decide what tool or platform will be used as the central source of truth for the data set. It must be capable of 
Handling constantly evolving design data exports from the BIM 

As-installed equipment data (serial numbers, verified ratings, etc.) 
Submittals
TAB data
Installation checklists, startup reports, functional and integrated test data, etc. 
Make all of this data exportable via API's and Excel exports
Bluerithm is being used as this central bridge combining design and construction data on complex projects, and making it exportable via API's and other export tools for importing into digital twins and other facility operations platforms.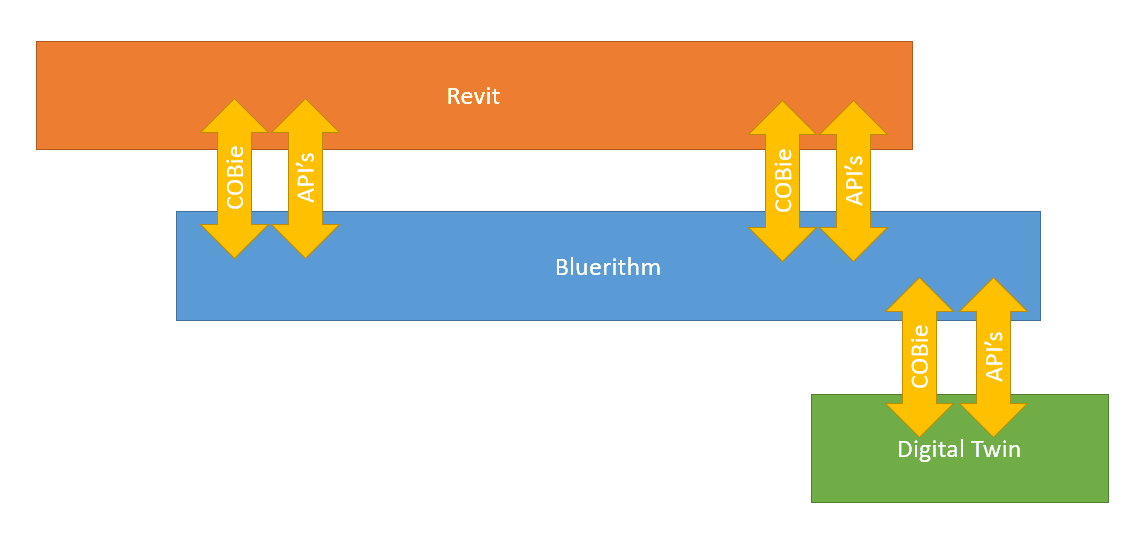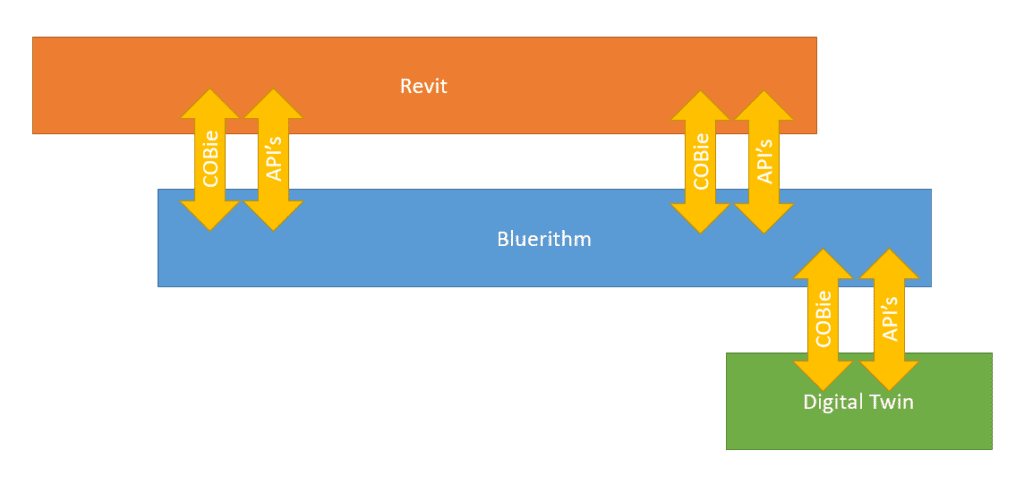 Near the end of the construction process, integration of automation and control systems, analytics capabilities, and configuration of operations workflows and rules will involve multiple parties working together for a functional outcome. 
The digital twin will ingest data from these sources using modern API's and through user configuration, create dashboards, KPI's, and other tools to streamline day to day management.
A digital twin will naturally be an ongoing work in progress, but after initial setup is complete it can be managed by a much smaller team of professionals. 
Where we're headed
We are in early stages of digital twin adoption. Moving forward holds tremendous potential to make better use of our limited human and physical resources, and make better, data-informed decisions.
Implementing digital twins is not an activity that exists as an isolated effort. An entire industry needs to get better at digital workflows and delivery. Standards, like the Brick schema consortium, need to emerge from competing ideas. Things are improving at an increasingly rapid pace, but there's still much to do.
But it's not hard to see a future emerging from the work of pioneers who on real projects today are pushing the state of the industry forward. The future likely holds not only individual buildings with digital twins available at our fingertips, but entire cities, utility networks, and other public assets represented in digital, virtual models, perhaps even with their data stored on a blockchain network.