Katerra might have crashed and burned, but "pioneers are oftentimes the losers. Then the other guys come behind it and figure out what they did wrong." Disrupting existing supply chain models and novel pre-fabrication approaches are just examples of innovation that's becoming more prominent (even despite Katerra's bankruptcy).
We'll continue to see disruptions like what Katerra tried (and many other forms) accelerate in the coming years. 2021 saw the biggest increase in venture capital investment in construction technology ever. Sure, there are factions in the industry that will continue to resist change, like they've been able to do over the past 50 years. But soon, or maybe now, they'll have to get on board with taking productivity and digitization seriously or get pushed out of the way.
Investors sense it's finally time to shake the industry loose of it's resistance to change, and there are enough people and firms willing to push the envelope.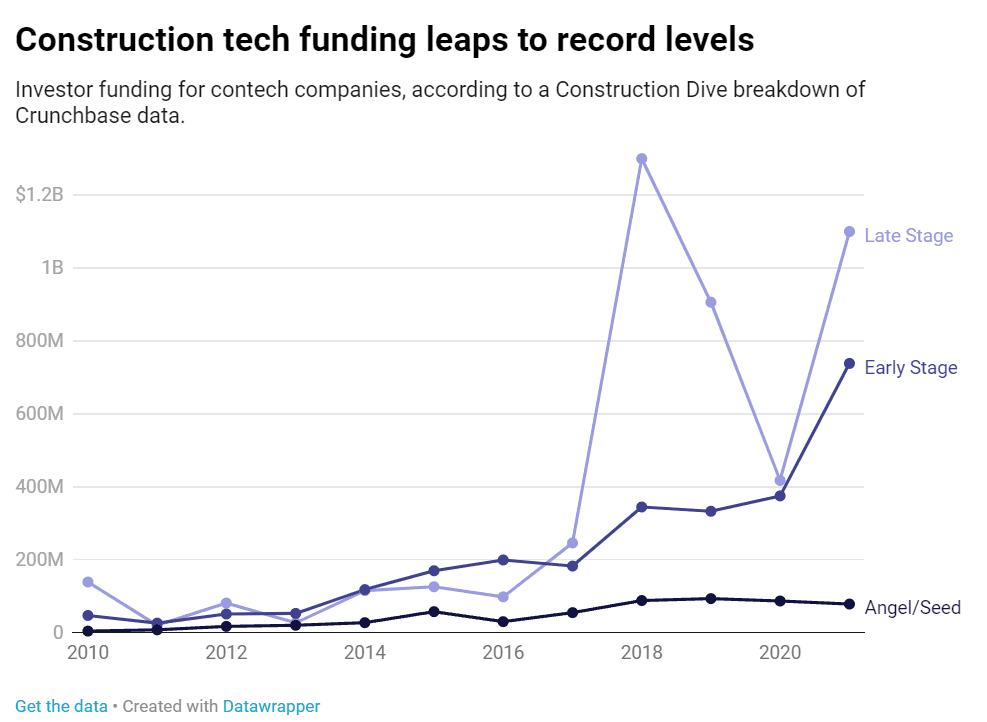 We're seeing more projects where day 1 expectations are a fully digital process and handover. That means no hardcopy anything, no 3,000 page .pdf manuals and reports. All facility and asset data is stored and represented in the building model. Facilitating this takes the right digital tools and know-how.
Workflows that span across disciplines and phases – design team to contractors to owner's reps and commissioning firms, through handover to operations – are being automated. Duplicated effort isn't being eliminated within a single team – it's being eliminated across the entire process. This happens by coordinating work and using tools that can keep the large amount of data a modern, large development project generates in sync across all phases.
We're past the point where ditching the clipboard for a digital checklist is a big step forward – that's quickly become table stakes. The firms and contractors that will succeed in the next decade will be those that integrate into the digital workflows and ecosystems and drive this progress forward.
If you need integrated digital tools for commissioning and readiness, project management, test and balance, field and asset data collection, quality control, punch and issue list management, etc., reach out to BlueRithm, or start a free account now.