How JB&B Field™ Took Its Esteemed Commissioning Process to the Cloud – Bluerithm Case Study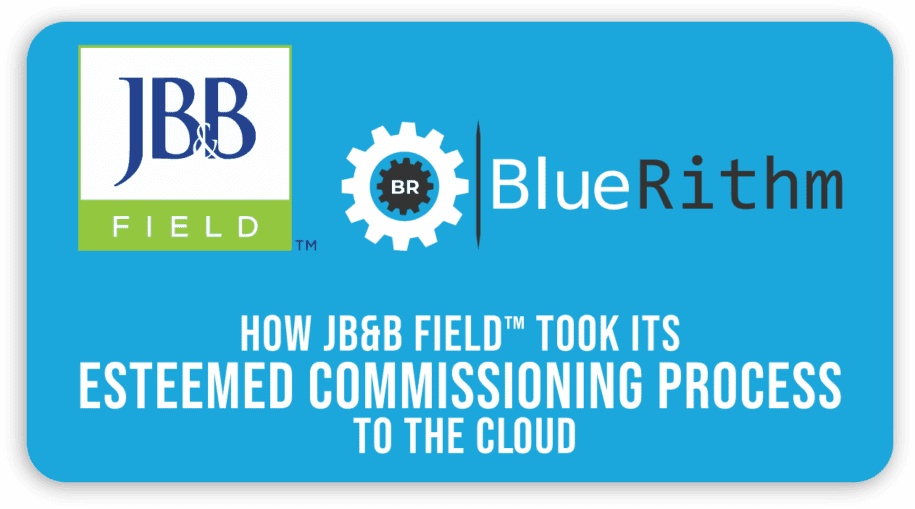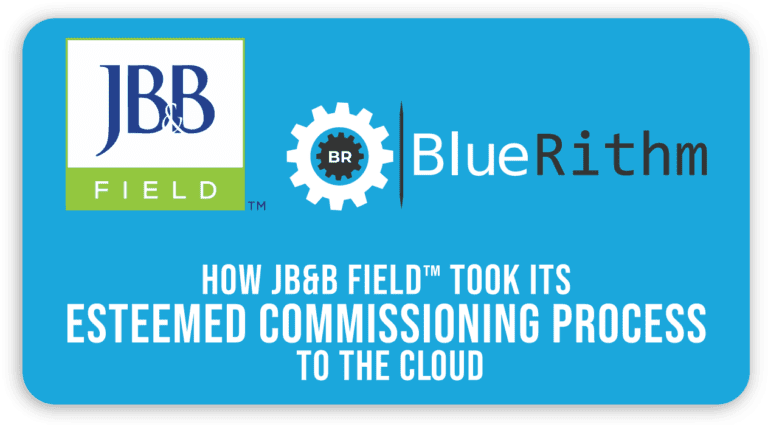 Recently, the JB&B Field™ team decided to move its process to the cloud with Bluerithm. Today, JB&B Field™ uses Bluerithm to streamline progress updates, test scripts, and deficiency tracking—all aspects of their comprehensive workflow—into a single interface. Since launching, the team has reduced redundant project communications, improved transparency, and saved considerable time—all while retaining the stringent process they're known for.
At any given time, the JB&B Field™ team's commissioning group has dozens of open projects at different stages of completion. To meet its promise to be advocates for owners, the team insists on a layered and deeply methodical commissioning process.
MAKE THE MOVE TO THE CLOUD WITHOUT COMPROMISING EXISTING PROCESSES
Adopt a Flexible Cloud Commissioning Solution
Maintain Existing Processes and Workflows
Preserve and Enhance an Outstanding Owner Experience
"The other platforms we considered were too rigid, requiring us to overhaul our existing workflows. Bluerithm's flexibility allowed us to adapt it seamlessly into our existing workflows while also maintaining the ability to meet the needs of a wide variety of projects."
Connor Tobin
Project Engineer
During construction projects, even small inefficiencies cost considerable time and effort. And though the JB&B Field™ team's internally built process was thorough, the team still spent substantial time on manual tasks.
"Our process works really well. It's a differentiator," says Chris Pell, Associate. "Everything coming out of our office was consistent. Stakeholders always know exactly what to expect from us. So we were reluctant to switch platforms and risk degrading this quality of service."
As meticulous as their existing process and platform were, the teams would often touch things twice. They'd spend time on paperwork that someone else had already done. Redundant emails would fly back and forth.
"We needed to do what we do best, but in a more efficient cloud-based environment," says John McDougall, Project Engineer. "Project owners want full access to the commissioning project, with real-time visibility of outstanding tests and open deficiencies. Bluerithm provides them this access. Previously they had to wait for weekly or bi-weekly static document issuances. Now they have the ability to check current project status with the click of a button."
Adapt the Commissioning Tool to JB&B Field's People and Processes
There's plenty of disruption that can accompany a migration from internally developed tools to third-party solutions. Fortunately, the Bluerithm team worked closely with the JB&B Field™ team to ensure a smooth transition. Today, the success of this deployment is underpinned by three pillars:
Customizable Project Template
Previously, the JB&B Field™ team would build out each project from scratch. Now, the team can spin up new projects based on a reusable template. This helps guarantee standardization, which cutting down on manual entry and tedious back-end work.
"We tailor all of our projects based on a single template. This speeds up the process, because we spend our time on perfecting project documentation as we go, not reinventing the wheel each time," says McDougall.
Real-Time Dashboard Accessible Anywhere
The JB&B Field™ team elevated its commitment to transparency using Bluerithm project dashboards. These dashboards stay updated in real time. From any device, at any time of day, stakeholders can get the up-to-the-minute information they need to keep the project moving.
"A subcontractor, CM, owner—everyone can look at the project live at the same time, wherever they are. They can see the overall status, what equipment has been tested, deficiencies. The owners seem incredibly happy," says Tobin.
KEY POINTS
Instant view of project completion timeline
Subcontractors see outstanding work and deficiencies
Fewer print-outs and email exchanges
Central place for photos, task updates, and communication
Synergistic Relationship Between Vendor and Client
The JB&B Field™ team enjoys a close relationship with Bluerithm. It's a two-way street: the Bluerithm team solicits and acts on feedback, leading to direct product improvements; and the Bluerithm team helps JB&B Field™ use its commissioning software as efficiently as possible.
"With other vendors, we'd provide feedback and they'd say, 'We'll think about it,' or, 'Please use the help docs'," says McDougall. "This team not only responds to our issues, but implements feedback continuously."
KEY POINTS
Prompt resolution for issues, bugs, and other troubleshooting
Openness to changing product to meet commissioning team's needs
Regular syncs to provide updates and gather feedback
"We didn't have to upend our approach. Weaving our custom process into a cloud software program made us a little more competitive in a very competitive market. Primarily, we saved hours by allowing the program to automate things that we were doing manually before."
Ryan Lean
Associate Partner
A WINNING COOPERATION FOR PROJECT OWNERS AND IN-HOUSE STAFF
Significant Time Savings Thanks to Fewer Touches
"Single Source of Truth" for Project Stakeholders
Improved Client Experience
Today, the team takes their commissioning process wherever they go, in-office or out in the field. They work through test scripts, notes, issues, and deficiencies in real time. This has drastically reduced the number of touches across the process.
"Right now, we see the biggest time savings during project close-out and final reporting," says McDougall. "We used to put together final reports by hand. Thousands of pages. It took us a week to gather the forms, categorize and link them properly, etc. Today, all of that organization is done already. We're saving a week or two just on final reporting."
The synergistic relationship between JB&B Field™ and Bluerithm only further enhances these efficiency gains. "For example," says Tobin, "we had an equipment status log that tracked every piece of equipment on the project, the status of all the deliverables, and the tests for each piece of equipment. When we first started with Bluerithm, there wasn't anything like that. So we suggested it and the team made it happen."
Bluerithm suggested viable process improvements, too. "We were so used to the old Microsoft Access database," continues Tobin, "where we would have subcategories upon subcategories for each project. They said, 'We get what you're doing, but there can be a simpler way for this.' Wo we took that advice and it streamlined the whole thing."
Finally, client experience has noticeably improved. "The ownership teams love the live look into the issues and project status," says Lean. "The self-service dashboard adds a level of transparency that elevates our entire client experience. And the most ironic part of all of this is that the more transparency we offer, the fewer inquiries we get."