Guide to Test and Balance (TAB)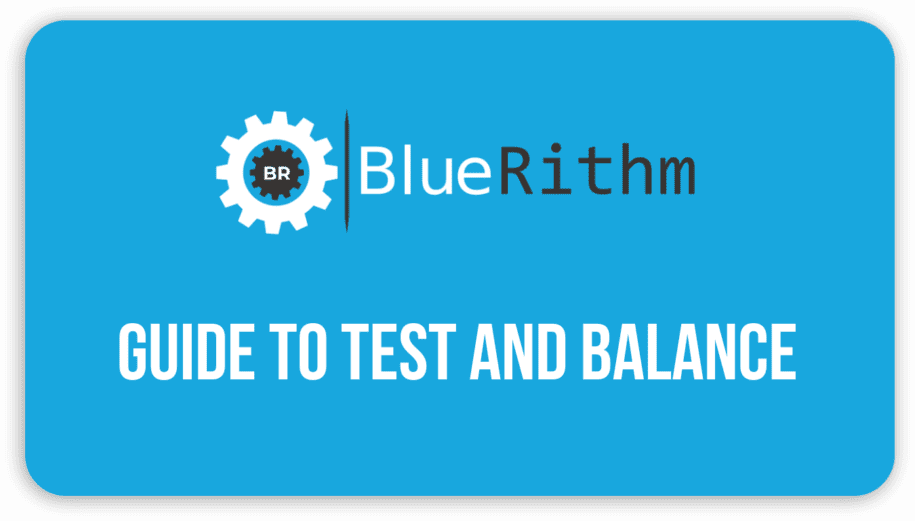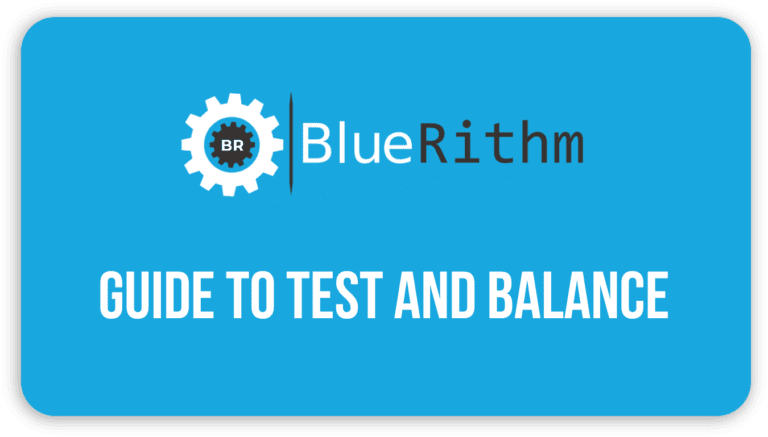 Guide to Test and Balance (TAB)
What is Test and Balance (TAB) and why is it needed?
Engineers who specialize in air conditioning and climate design have conducted research and established standards for ideal conditions based on the uses of different spaces over the years. Mechanical engineers are typically responsible for designing and selecting the equipment and energy delivery systems that will be constructed by the construction team. Once a system has been constructed, the final step is to ensure that energy is correctly routed within the constructed environment, and that all equipment functions as intended because any deviation in how a system has been constructed vs how it was designed, even slight deviations, can cause a system to become unbalanced. Engineers typically design to a certain range of parameters. However, these requirements can shift over time, such as needing more air in a room due to added computers or printers, or having to make up for inadequate insulation that results in an increased need for cooling. As a result, engineers must design with enough leeway to anticipate and compensate for any unexpected issues over the life of the building.

The testing and balancing (TAB) of an HVAC (Heating, Ventilating, and Air Conditioning) system is a necessary final step to guarantee that the designed system and the workmanship of contractors meets requirements. The cost for HVAC testing and balancing is usually just a fraction of the entire cost of the system or, more importantly, its operational cost. Would you buy a car without having it tested and adjusted at the factory? The construction process can be likened to building a custom car in the field with many hands involved.

Test and Balance (TAB) is a process of measuring, adjusting, and verifying HVAC systems to ensure they are functioning effectively and efficiently. It involves testing and adjusting the air and water flow, pressure, temperature, and humidity of HVAC systems to ensure they are operating as per the design requirements.

The test and balance process is typically carried out by certified professionals and involves using specialized equipment such as airflow hoods, anemometers, pressure gauges, thermometers, and hygrometers to measure and adjust the HVAC systems. The TAB process includes several steps such as visual inspection, functional testing, measuring airflow rates, adjusting system components, and documenting the results. It involves checking the air pressure and temperature in each room, as well as checking for air flow at the registers and returns.

The ultimate goal of Test and Balance is to achieve optimal performance of the HVAC system, which includes reducing energy consumption, increasing indoor comfort, and prolonging the lifespan of the equipment. The process is essential for ensuring the safe and efficient operation of HVAC systems and is often required by building codes and industry standards.
Goals of Test and Balance (TAB):
1) Ventilation
Testing and Balancing in commercial buildings ensures that the correct amount of ventilation air is provided to the space. Excess fresh air can lead to an undesirable increase in humidity and the proliferation of mold in artificially created environments. Insufficient fresh air can lead to an increased presence of carbon dioxide and the possibility of diseases being spread in the enclosed space.
2) Disease Control
Testing and balancing in hospitals helps guarantee that any contaminated air is contained and clean, fresh air is directed to the right places. The testing and balancing process for these spaces normally prioritizes maintaining a difference in pressure between the various rooms.
3) Comfort
Having a properly calibrated heating, ventilation, and air conditioning (HVAC) system can ensure that occupants of a building are content and able to work at their full potential. This eliminates the need for them to frequently make adjustments to the thermostat or voice complaints about inconsistent temperatures from room-to-room, thereby cutting down on energy expenses as well as managing costs. Owners may take this into account when planning for what kind of atmosphere is necessary for the success of their business, leading to increased productivity.
4) Compliance
The United States has recognized the importance of testing and balancing and that is why it has been incorporated into most building codes.
TAB for Manufacturing Facilities
In order for certain manufacturing processes to remain at peak production, environmental conditions must be closely monitored and kept within the designated parameters.
TAB for Existing Buildings
Periodic rebalancing of existing facilities can be beneficial, especially when there have been shifts in internal loads or space configurations.
Typical HVAC TAB services may include:
HVAC system surveys

Indoor air quality testing

Exhaust system troubleshooting

HVAC sound and vibration testing

Temperature control system verification

Air and hydronic system balancing and troubleshooting

Pressure and duct system leak testing and investigations
3 Main Certifying Bodies for TAB Include:
TAB Certification Levels Include:
Technician
A technician performs the TAB work. It is important that this person is skilled in their job and understands underlying processes. Technicians understand local codes, how to take care of measurement equipment, and know how to properly report TAB results.
Supervisor
A supervisor is a professional in a leadership role who is responsible for the oversight and quality of the project. Supervisors have deep technical expertise and work experience.
Firm
A firm level certification is for the TAB company, which is responsible for the technicians and supervisors.
The Importance of Using Certified Technicians for TAB Services
A quality TAB process should include tests that are conducted according to a standardized methodology and performed by a certified technician. TAB certified specialists utilize their expertise and know-how to verify, test, and adjust heating, ventilation, and air conditioning (HVAC) systems post-installation or retrofit, during a building's commissioning process, or whenever assessment of existing buildings is required. Building owners can be certain that a contractor will meet predetermined standards of quality when certified. In cases where local laws do not specify a particular certification necessary, private organizations may set additional requirements over and above what is called for in building codes. This may require a balancing procedure to be carried out by a contractor who has acquired a specific certification or to be done to a certain standard.

The building commissioning process is highly intricate and multi-faceted and continues to evolve due to industry requirements and building codes. Carrying out proper testing, adjusting, and balancing during the commissioning process helps building owners and occupants by ensuring the designed parameters are satisfied. In addition to comfort, a properly calibrated HVAC system consumes less power and yields better air quality inside buildings. Using a certified TAB contractor ensures that quality work is done since they must have specific qualifications which are certified by a third-party.
Bluerithm is a modern cloud-based platform that can optimize your TAB projects and automate administrative tasks
See How Much Bluerithm Can Save You on Your TAB Projects Using These Calculators