What a year
I hope that 2021 has been good to you and your team. Despite ongoing challenges, we've seen a faster-than-expected global rebound, including growth in commercial and industrial construction. This trend is expected to continue for the foreseeable future.
Recent events have accelerated technology adoption in our industry, which has historically lagged. VC investment in construction technology is higher than ever, and is outpacing investment in most other industries. Rapid change is going to continue. I hope you're as excited as we are to be part of this evolution, and about making our built environment more efficient, sustainable, and effective.
Here are some of the highlights from updates we made to BlueRithm in 2021, and some previews of what's coming in the near future. 
2021 Recap
Procore integration
Reducing duplicated work across the entire workflow of design -> construction -> operation is going to continue to be something we will deliver. Automating as much as possible saves your team time and money, and delivers better results for you and your clients. The BlueRithm integration to Procore is part of this.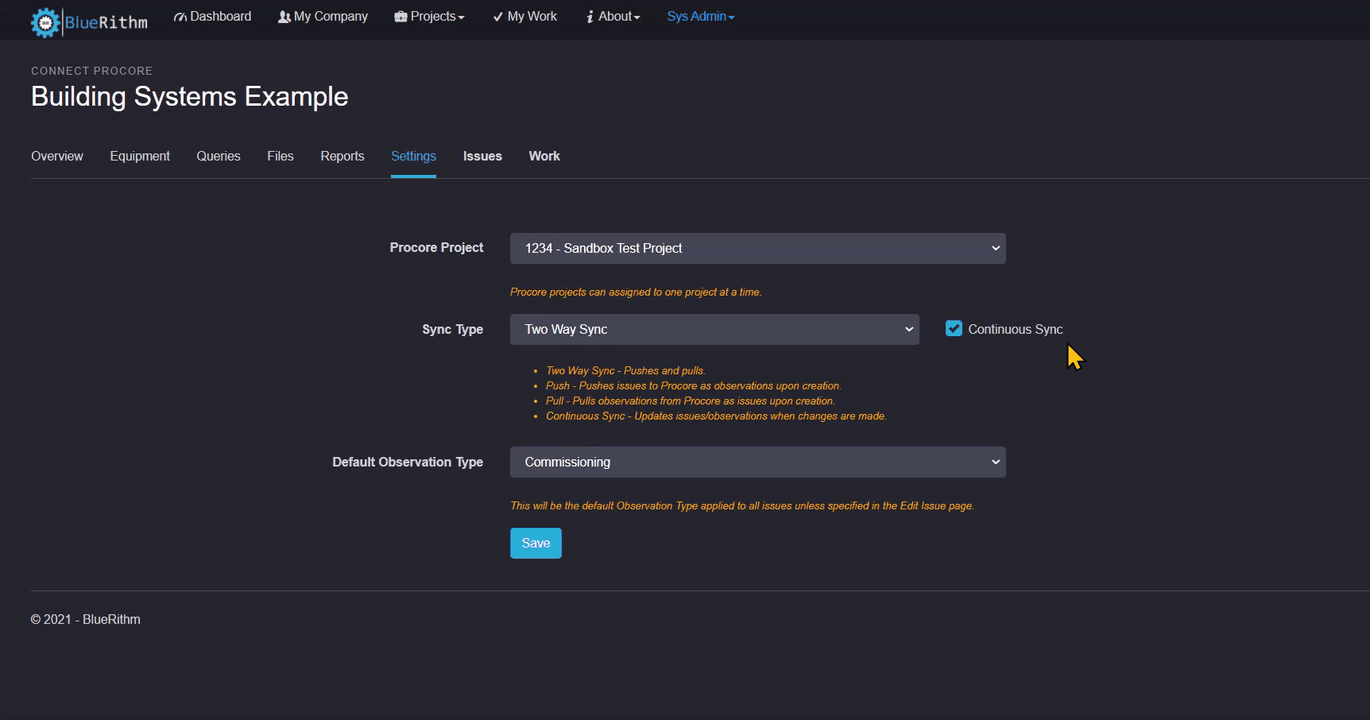 BlueRithm free tier
Because we think no one should still be using manual and static tools like Excel, Word, or PDF based workflows, we added a free tier and continue to remove barriers to getting up and running with BlueRithm as quickly as possible. Read more.
Audit history
Facilitating accountability, transparency, and making detailed record keeping easy is a big part of what BlueRithm does for you. We made it easier to keep track of every detail of your checklists, test procedures, design reviews, and all other work in your projects with robust audit histories for issues and all design reviews, forms, checklists, etc.
Windows offline-capable app
A Windows version of our offline app was released. This means we have offline-capable apps for Android, iOS, and Windows.
New API
We rebuilt our customer API, so if you want to leverage Power BI, build your own integrations to BlueRithm, or do anything at all with the data from your projects, we have you covered.
Report builder updates
We made improvements to report styling, layouts, and made significant improvements to the time it takes to generate reports.
Team growth
Finding top notch, US-based engineering talent is no small feat because the competition for software engineers. We've been fortunate to add to our very talented team of senior engineers this year.
Investment round
We're going to do big things, and we found partners who believe in our mission and what we're building who are helping us get there faster.
Hundreds of other updates!
We are relentless in making improvements to the platform, and many of them aren't announced. Some of them are announced to customers only. We're dedicated to constantly improving BlueRithm based on your feedback and it's common for us to push updates every few days.
Looking ahead to 2022
Updated page layouts, improved UX (coming soon)
We're investing heavily into making BlueRithm look nicer, flow smoother, and to making it easier and nicer to use across the board. We've brought in a UX specialist to help in these efforts. You'll notice some incremental, and some large updates related to this.
Full text editor (coming soon)
Sometimes a little extra formatting goes a long way to making complex information easier to understand, so we've added full-text editing capability to work items / forms / checklists / issues / notes / etc.
Automatic form matrix builder (coming soon)
This tool will build a matrix style form, with data from multiple forms on multiple equipment. It's powerful and will allow you to be efficient, as well as keep your data in a structure that's compatible with industries standards like COBie, etc.
Light mode (coming soon)
Some people just don't like the standard dark mode, so we're adding a light mode option!
New COBie tools (coming soon)
A validator tool, import, and export tools to facilitate data transfer across industry platforms.
Issue draft status (coming soon)
An improved workflow that allows you to keep issues internal to your team for reviews, updates, etc. before releasing to respondents and other stakeholders.
Conferences
We were able to get back out on the road in 2021 when we attended the BCxA conference in Toronto. 2022 is shaping up with a full conference calendar, which is great. Here's a few where we have confirmed exhibitor spots already. If you have any other conferences you're involved with and would like us to attend, let me know!
CxEnergy in Orlando, FL
​CSA conference in London
BCxA annual conference in Phoenix, AZ
NEBB annual conference in Charleston, SC
Much, much more
There's a LOT in store for 2022 and I truly can't wait to get these updates in your hands.
In Summary
2021 was a great year where we've built upon a foundation that started several years ago. We're obsessively focused on building the best commissioning, test and balance, and asset readiness platform available. We believe the pieces are place for us to execute on this goal, and we hope you eventually agree, if you don't already.
Here's a to wrapping up the rest of the year, and to an outstanding 2022!!