Introduction
It's becoming common for owners to ask for a fully digital turnover for their capital projects. They may use the digital output to populate a maintenance management platform, or what's becoming more common, to feed into a digital twin at project turnover. Either way, this requires a clean, normalized data set at project turnover instead of reams of .pdf files. Despite best efforts with cloud file storage systems, the typical turnover package is usually disjointed and consists of standalone packages provided by various parties.
These .pdf packages aren't easily searchable as a common set of data and require building operators and future designers, contractors, and anyone who needs to reference that data to sift through it, or even physically look at an equipment or component to get simple data like electrical ratings, belt sizes, etc.
Common Data Environment
In the context of a construction project, a common data environment (CDE) is a centralized platform that allows all project stakeholders to access, input, and share data in a consistent and standardized format. It's created at the earliest stages of design and built upon from multiple sources through all phases of the project. The CDE serves as a single source of truth for data related to the project, including architectural, engineering, and construction data as well as information about the surrounding environment.
The use of a CDE is particularly important in the context of digital twins, which are virtual representations of physical objects or systems that use real-time data to simulate their characteristics, behavior, and performance. By using a CDE, AEC professionals can ensure that the data used to create and populate the digital twin is complete, accurate, normalized, and up-to-date. This improves the accuracy and reliability of the digital twin, and supports better decision-making during the design and construction process.
A CDE can also support collaboration and communication among project stakeholders, by providing a centralized location where everyone can access and share data and information. This can help to improve coordination and efficiency during the design and construction process, and reduces the risk of errors or delays.
The CDE is an essential part of the digital twin workflow in the AEC industry. A platform like Bluerithm is uniquely positioned to act as the CDE, receiving data from the BIM in Revit, from various field workflows, and integrations from other construction ecosystem tools. It supports the collection, organization, and integration of data, as well as enables better collaboration and decision-making during the design, construction, and turnover process.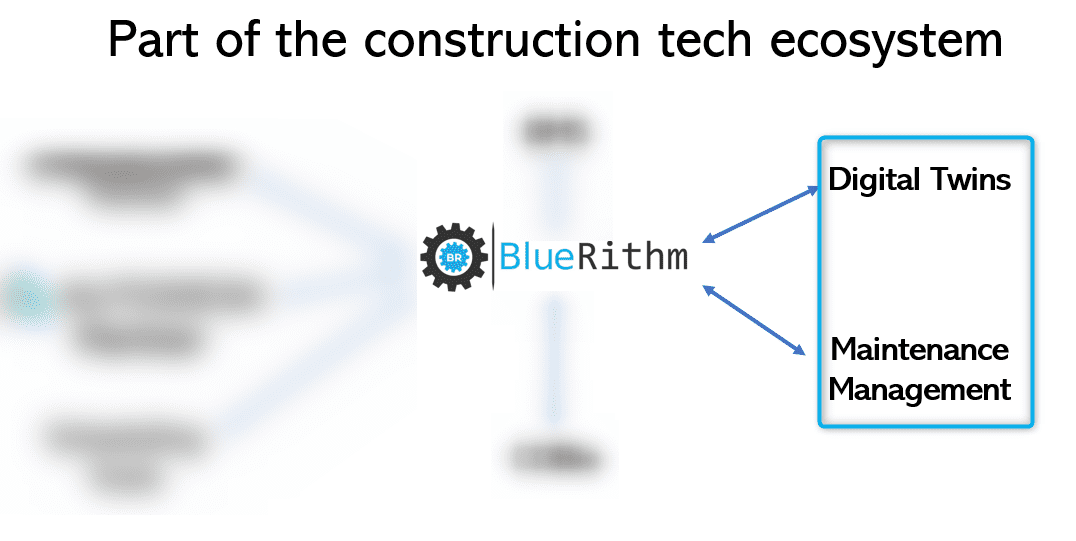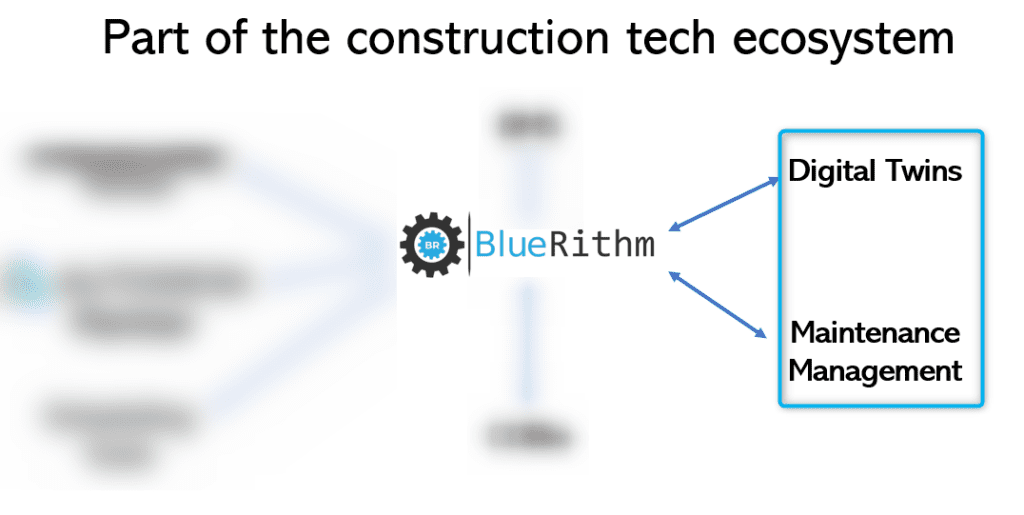 Digital Twins
A digital twin is a virtual representation of a physical object or system. It is a digital replica that uses real-time data to simulate the characteristics, behavior, and performance of the physical object or system it represents. Digital twins are commonly used in the architectural, engineering, and construction (AEC) industry to help design and build complex structures and systems, as especially to manage building operations and lifecycle.
By creating a digital twin of a building or other structure, AEC professionals can simulate and test different design scenarios, identify potential issues and risks, and optimize the performance and sustainability of the building or plant.
Once the project is completed, the digital twin can be used for operations and lifecycle management. This may involve using the digital twin to monitor and control building systems and equipment, as well as to predict and prevent potential failures or malfunctions. The digital twin can also be used to support decision-making during the building's lifecycle, such as when making changes or upgrades to the building's systems or infrastructure.
In Summary
Digital twins are a valuable tool helping to improve the design, performance, and management of complex buildings and plants. By using a common data environment during the design and construction phase of a project, teams can overcome the challenges of data management and accuracy in the digital twin and set the owners of these assets up for long term success.